Though it was less than a year ago, how I discovered NiZn batteries is lost to the mists of time. Their 1.6V rating makes them useful in some situations, and a wayward AA cell provides another excuse to play with scope math.
I do remember why I was searching, however. My DSLR camera was not working well with my various NiMH AA cells -- it never had, but had become even worse. Surely all the cells couldn't have gone bad. My assumption, borne out by some web searching, was that the camera's battery sense threshold was a bit too high. Maybe it was in my search that I stumbled across mention of this new (actually, not so new) chemistry -- newly available at least -- Nickel Zinc, with a 1.6V cell voltage. That seemed a good candidate to make my camera happy.
I found sellers on eBay and Amazon, but I assume there must be more traditional and reliable sources too. Since I wasn't sure how well they would work, I went looking for the best deal, and found a kit of four AAs, four AAAs, and a charger, for around $20!
Around the same time, I also purchased a quality NiMH charger, and hallelujah, it brought my NiMH cells back from the dead. Still, I've mostly been using the NiZn cells in my camera, with good results. There's one downside: By the time the camera shows "low battery," the NiZns are only good for one or two more shots.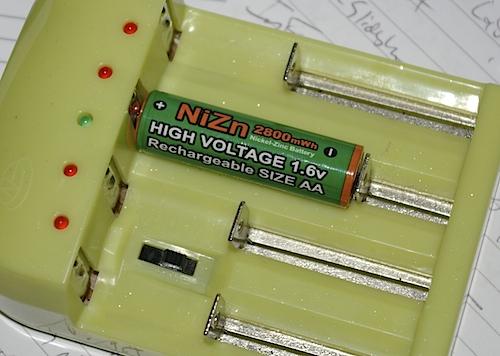 Just for fun, and to further explore scope math, I decided to try another battery discharge test. This time, I'd improve three factors compared to my first try. I'd draw a reasonable amount of current for the battery type, I'd measure WH, not AH, and I'd attempt to provide a constant power load instead of a simple resistor, to more closely mimic most modern electronics (with switching supplies). As I didn't have a little switcher lying around, I accomplished this last task manually, reducing the load resistance as the cell voltage dropped. On the ball as always, I even managed to forget I had a nice resistor sub box, and spent the few hours messing around with resistors in a breadboard!
Here's the discharge curve, showing my attempts at increasing the current over time (blue trace). Don't laugh too hard -- I was actually quite successful, judging by the linearity of the red math trace! You can click the image to go full-size.
The cell voltage (yellow) starts at about 1.5V. I confess, I didn't start with a fully-charged cell, because that would have required too high a load to fit within the scope's 2.75 hour limit. Still, we can see how the cell behaves during the interesting part of its discharge.
I tried to keep power consumption to about 300mW. The cell's end-of-life is between 1.1V and 1.2V. And looking at the reading at the bottom of the screen, the maximum of the integrated power is 794.6mWs. Actually, the unit should be mWH because I divided by 3,600, but I won't fault the scope for not understanding that. Quite the opposite, it's very nice that it knows that the integral of volts times amps is Ws.
I trust we would see the cell's rating of 2,800mWH when fully charged. Notice that NiZn makers have adopted mWH instead of mAH to rate their batteries -- not surprising, considering the equivalent 1,750mAH would not look good to consumers when compared to 2,000mAH or more typical of a decent NiMH AA cell.
So, what do you think? Will you try NiZn for one of your applications? Let us know if you do. And bug your scope maker to extend the timebase range in their next firmware update.
Related posts: