Most scopes today are computers that happen to have some data acquisition hardware and a front-panel tacked on. It's not surprising then that the software running on this computer largely determines the machine's functionality, look, and feel.
Following in the computer paradigm, most of these scopes let you purchase various software upgrades that add measurement, analysis, and other features to the base set. What are the pros and cons to this approach?
OK, I confess, our latest poll may have been a thinly veiled way to rant about the nickel and diming that I feel is happening in the world of software options. I also confess that the poll is a bit unclear. One, does each choice include all the choices above it? Yes. And two, how does price come into the picture? Umm... well, it's complicated.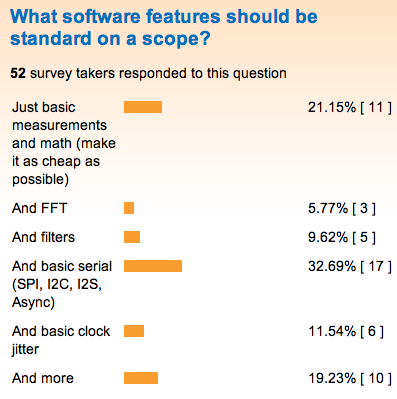 My thinking is that the options I've listed should have little to no impact on the price of the scope. Most are as basic to a scope today as amplitude and frequency measurements (or, maybe those should be optional too; I rarely use them; that's what the graticule is for!). As an example, if a scope is capable enough to do jitter analysis, it will be a pretty expensive box to begin with. The value of the software to implement the actual analysis is going to be a small percentage of that cost. Just make it standard, and amortize it over the whole production. I've encountered this at least once, so there is hope.
You know what? I can buy an entire oscilloscope (USB module or standalone) -- one that includes serial decodes and FFT -- for less than the cost of one of those software options on many higher-end units! Does that seem reasonable?
I'm sorry, but FFT just isn't that big a deal any more. Free code has been floating about for decades, and it isn't suddenly worth $1,000, just because it's running on a scope. That just makes customers feel taken advantage of.
Similar story for simple serial decodes. I won't repeat myself.
Is there a downside to my feature comforts? Well, some pretty sophisticated entry-level scopes are now available at nice price points. You can probably end up doubling their cost by loading up on features. Would making more of those features standard raise the price of entry? Maybe. But, as I implied above, getting a second, lower-end scope with those features as standard would give you two scopes for less than the price of one.
I think it's time we see a bit more competition in this corner of the scope world. I'm tired of handing over my nickels and dimes. What about you?